It's only May, but we're already dreaming of summer nights on the patio, lingering outside with family and friends long after the sun goes down. Even if you have an outdoor fireplace or fire ring, you'll need some lighting to keep the patio bright enough to enjoy after the sun goes down.
Read on for easy ways to light your patio and outdoor space, courtesy of Houzz.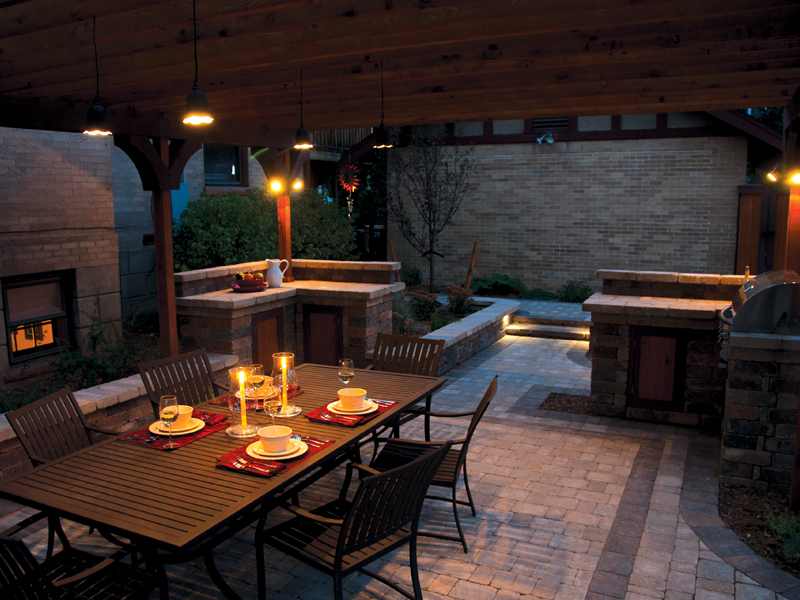 Place Lights Low
Lights placed at eye level – whether sitting or standing – are distracting and irritating, and will actually make it harder to see. For a more pleasant atmosphere, keep lights low, lining the ground or railings with lights. There are many ways to do this, such as installing lights directly into the patio, or by hiding continuous LED strips below walls, steps or seating.
Opt for Strings
In addition to lights placed low, consider stringing lights from the house, pergola or other overhead fixtures. This will provide soft light while avoiding harsh lights shining directly into the eye.
Bury the Bulbs
Any light fixture in which the light bulb is clearly visible will cause glare and eye strain. Choose fixtures with frosted glass, or even better, that hide the bulb deep inside.
Light Up the Trees
Want to make your patio feel bigger? Place lighting on trees or landscaping, or on nearby decks or patio walls. This will give off plenty of ambient light while making your outdoor space feel more expansive.
Ready to upgrade your patio? Borgert Products offers a variety of patio pavers, slabs, outdoor fireplaces and retaining walls. Visit our website or contact us to learn more.
Borgert is a Minnesota-based, family-owned company specializing in premium concrete pavers and slabs, patios, driveways, fire rings and fire pits, outdoor fireplaces and retaining walls. Since 1923, we have been committed to providing high quality hardscaping products that help our customers' dream landscapes become a reality. Get a quote today on your Borgert products.