A fireplace is a practical and eye-catching addition to any patio or outdoor space. In addition to the visual impact, an outdoor fireplace will provide warmth, effectively extending the life of your patio during the cooler spring and fall months.
As an exclusive dealer of King of Hearths fireplaces and ovens, Borgert Products offers an outdoor fireplace unit that is constructed from lightweight concrete. It is fully lined with fire brick for maximum safety. Our fireplaces are engineered for mortarless veneering, and are exceptionally strong, ensuring that they will withstand weather and remain in peak condition for many years.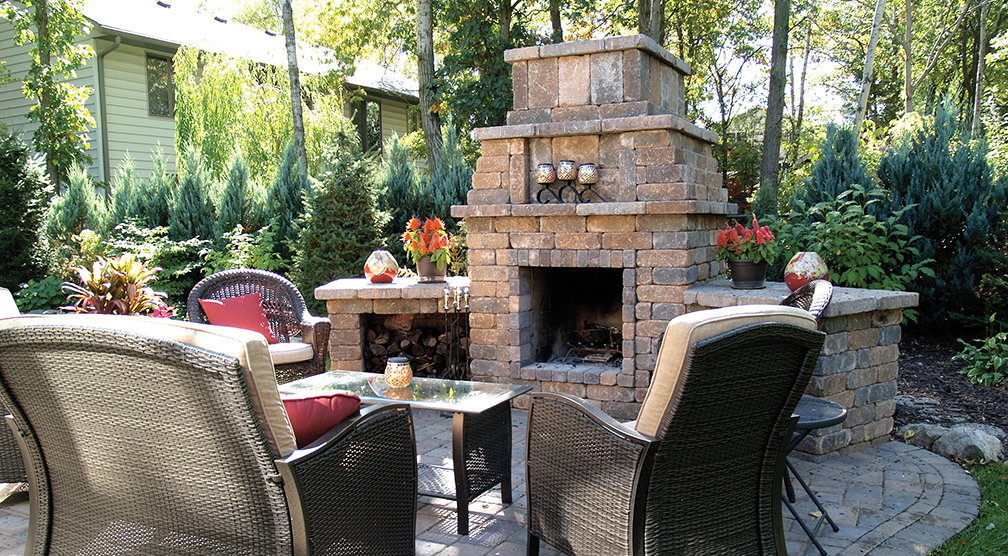 Here are a few tips on outdoor fireplace installation. For a detailed step-by-step installation guide, visit our Borgert Resource Guide.
Pad
You will need to remove all plant matter and topsoil from under the slab or hearth. Replace that organic material with gravel which must be compacted for support. If a pad is required (which will depend on fireplace size and positioning), ensure it's at least six inches deep, with other measurements customized to the type and size of the fireplace unit. Install a rebar mat in a checkerboard pattern with 12-inch centers. Cure the pad for seven days before placing the fireplace.
Conditioning
Once the fireplace is placed per specific installation instructions, it is recommended to build a few small fireplaces before the facing is applied. This will temper the unit, helping to bring the materials to a near final rest before the facing is applied.
Safety
There should be no combustible materials placed within four feet of the fireplace opening. This includes trees and plants, wood decking and furniture. The fireplace stack is equipped for a chimney cap – ensure that the cap has a spark arrestor. Only burn wood; never garbage or other materials. Make sure the burning area is completely dry before starting a fire.
Get the most out of our short Midwest summers with a Borgert Products outdoor fireplace. Contact us to get started.
Borgert is a Minnesota-based, family-owned company specializing in pavers, patios, driveways and retaining walls. Since 1923, we have been committed to providing high quality products that help our customers dream landscapes become a reality. Get a quote today on your Borgert products.